back to archive
August 2010 Carol Doak Newsletter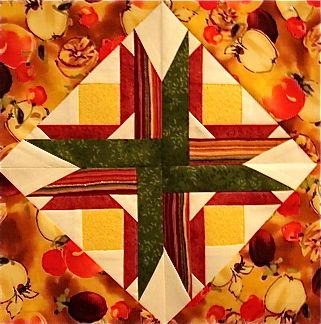 Wow, this summer seems to be flying by lately. I can't believe it is already August. The block at the right is the August Block of the Month that I uploaded for the Carol Doak Yahoo Group. Several members have already uploaded their finished blocks. This block was made by Karen who lives in Idaho. Karen's fabric is just perfect for both August and the autumn that is just around the corner. This is the third block in the new Block of the Month Series and the results thus far have been fantastic. Each block is set so that it appears on point. The quilt I have designed for this quilt has connector blocks that will draw your eye through the quilt.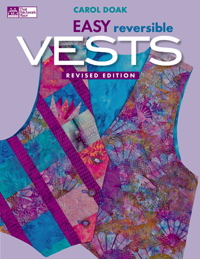 I decided to make the Easy Reversible Vest Book - Revised Edition- the book of the month for August. I love making these vests because they are so quick and easy to make and fun to wear and give as gifts. Just this month I taught the vest class at both the Quilt Odyssey in Hershey and the Maine Quilt Show. At Saturday night's Show and Tell, several students modeled their completed vests.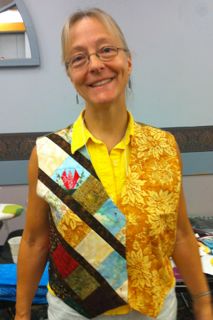 And, I just returned from teaching at the Maine Quilt Show. Here is one happy student modeling the vest she made in class. The techniques used to make the patchwork and the vest are so simple, yet the results are fun and flattering. It comes with a pull out pattern in the back to make two different vest styles in sizes Petite to X-Large. Take advantage of the on sale price this month to add this book to your library.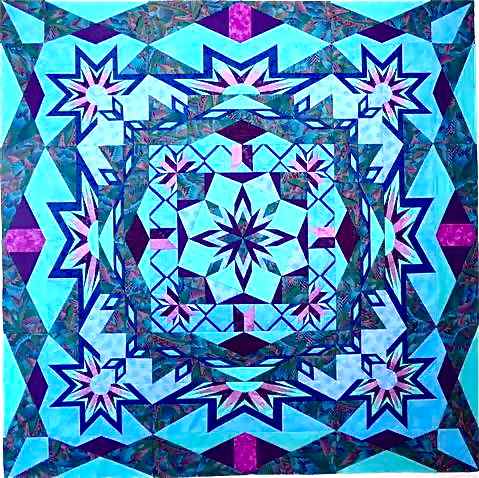 We are now 6,340 members strong and members continue to amaze and surprise me with their creativity. The truly wonderful Yours Truly Round Robins concluded and the results were stunning. The quilt at the left was made by Susan.
In a random drawing last month, Cat was the lucky winner of many yards of fabric.
Members are working on a mini challenge as well.
And, just so they are not bored, one of our members Cathy, proposed that members sign up to make a state star block to be collected and assembled in a quilt to celebrate the fact that last month I taught in the 50th state, Delaware. So far the pictures of the blocks are amazing....I can't wait to see them all.
On the Road Again-Whoopie Pies for Everyone!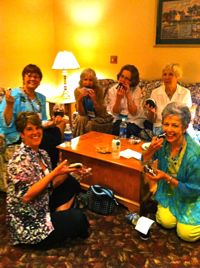 Wow, July was such a busy month traveling and teaching. I actually do love to travel and teach and some of you may know that I made the decision to really cut back my travel/teaching for 2011. I will teach at a very few venues in 2011.
The photo at the left was taken at lunch time with a group of faculty (Karen Kay Buckley, Mary Lou Weidman, Karen Eckmeier, Sue Nickels, Mary Kerr and Vikki Pignatelli) eating Whoopie Pies. Apparently a few of the faculty had heard about them and didn't know what they were. So our wonderful Maine Chair, Nancy, sent out for pies for everyone. What fun we had!
A whoopie pie (alternatively called a gob, black-and-white, bob, or "BFO" for Big Fat Oreo) is a baked good made of two round mound-shaped pieces of chocolate cake, sometimes pumpkin cake, with a sweet, creamy frosting sandwiched between them.
This month I am heading off to Moutain Home, Arkansas and Ohio to teach. I hope to meet some of you along the way.
Until next time,
All the best, Carol