back to archive
June 2010 Carol Doak Newsletter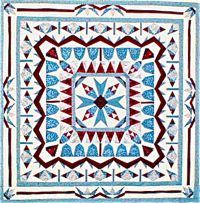 It is the Friday before our Memorial Day Weekend. It is a time to honor the heroes who fought for and defend our freedom in years gone by and continue today to keep us safe. It is also a time to honor the families of our military who support them and give so much themselves. Please, take a moment this weekend, to bow your head and say a prayer.
When I was considering which quilt to use to begin my June Newsletter, I remembered the quilt that Ginnie posted in the Carol Doak Yahoo Group. It is a stunning quilt and the colors seemed so approriate. This is the final round of the Yours Truly Round Robin challenge that has been going on at the Carol Doak Yahoo Group for several months. It was particularly fun for me to see this quilt because Ginnie used several of the new paper-pieced border patterns I recently offered in the web store. Ginnie used borders, 2, 3, 4 and 5 in her quilt and I think the end result is fabulous. I loved her idea of using the corners and a few side segments in conjunction with the striped red and white fabrics!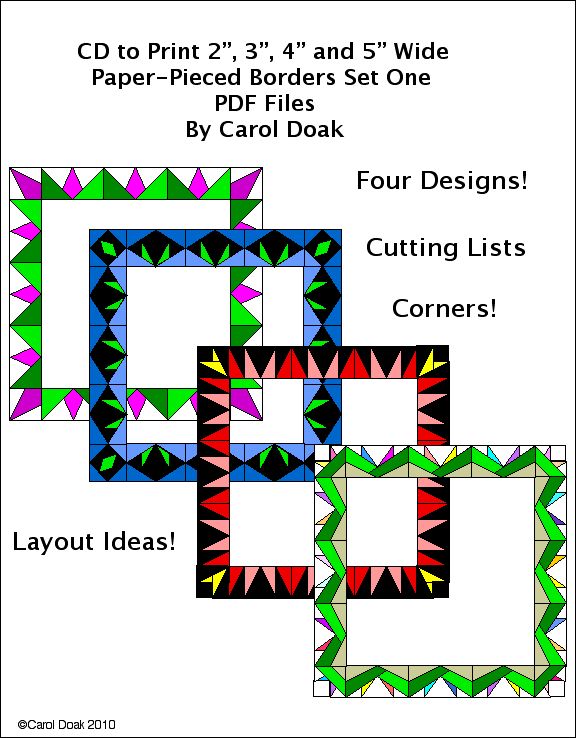 I want to take just a few lines to chat about using the web store. Typically, everything goes as planned, but sometimes it does not. When it doesn't, I would like to hear from you so we can make it better and resolve issues. If you attempt an order and it does not process through, please send me an email so I can investigate the issue. I know that using the internet and computers can sometimes be frustrating...(I have been there!), but it does afford us to get what we would like easily and have it delivered to our front door.
The hot items in the store continue to be the new Border Set One and Border Set Two CDs to print the foundations.
Book of the Month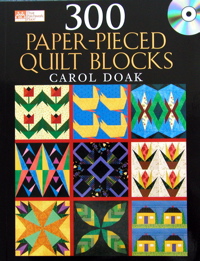 Time to select the Book of the Month for June. I decided to select 300 Paper-Pieced Quilt Blocks for several reasons. First, there are so many block designs with a spring/summer theme in this book, flowers, baskets, watermelon, shirt/tie (for Father's Day), nautical themes with boats and light houses and the list just goes on and one. I receive lots of emails asking if I have a design for one thing or another. Most of the time, I can say yes and point them to this book. It is destined to be a classic and one that should be on the shelf of every paper piecer. I'm going to make it easy for you to purchase this one and place it on sale. It is already a great value coming with the Foundation Factory CD to print the foundations in any size you like.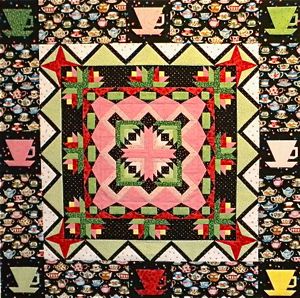 This fabulous group of nearly 6000 members continues to amaze me. We are winding up the Yours Truly Round Robin and the resulting quilts are stunning. The premise behind this challenge is that members start with any block. (Carol Doak design of course...) Then each month I gave them a set of criteria they needed to meet for the next border or round. For many members, this had them reach outside their box, but for all members, the results were fabulous. Even if you didn't participate, seeing how members took the criteria to build their quilt month to month was a pure joy. The quilt at the left was made by Anita from Oregon and is called, A Carol Doak Tea Party. I have to admit that I never saw tea cups coming, but they just completed the quilt in a most delightful way.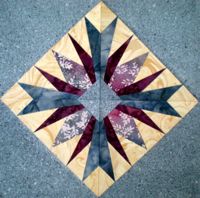 New Simply Radiant Block of the Month Starting at the Carol Doak Yahoo Group
Knowing that our latest challenge was winding up, it was time for me to consider what next. Block of the Month programs have always been so successful. It is not a huge commitment each month, but at the end of the year, a quilt is born. I recently announced to the group that I was pregnant with a NEW block of the month. I wanted to get their attention. I have laughed out loud with the comments about being in labor and pushing. Although the design for the quilt was done and the first couple of designs were done, I wanted a couple of members to test the first few patterns before I uploaded the designs to the group. The block at the right is the new June Block of the Month which will be uploaded shortly. Come by, join the group and see the radiant quilt design that will feature these gems.
If you want to join in the fun, just click on the link above.
New Free Pattern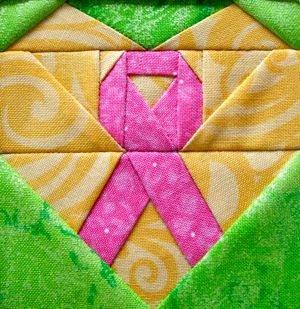 Come to the free patterns sections to download the newest free pattern. This little cutie is the perfect way to show love and support for your friends, family and causes that our dear to your heart.
Enjoy,
Carol
On the Road Again
I leave next week for Peoria and Danville, IL to teach and lecture. Then I look forward to returning and teaching and lecturing at the Vermont Quilt Festival where I am sure to meet up with some friends. Speaking of Vermont, the recent retreat that I did at the Strongsville Inn in Vermont was so much fun and so special, I agreed to come back next year and do a five night retreat in June. All the info is listed in my teaching schedule.
Until next time, keep smiling,
Carol