back to archive

March 2010 Newsletter From Carol Doak
I wasn't sure I was going to be able to get this newsletter out today. You see we have been in throes of another winter storm leaving us with many downed trees here in NH. Downed trees means no power or cable. Fortunately our generator kept the heat on with limited lights so we made it through this one without having to leave our home. Spring can not come soon enough for me this year and March is a good sign that it is just around the corner.
The stunning quilt on the left was made by Carole D from the Carol Doak Yahoo Group during our Yours Truly Round Robin.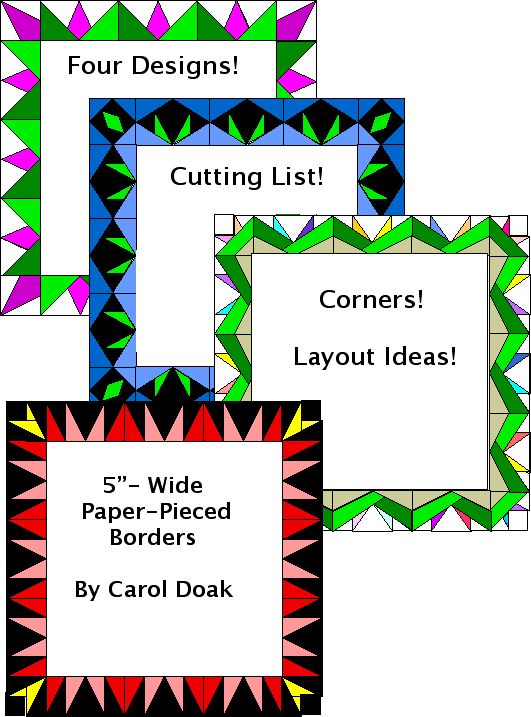 It has been on my "to do" list for some time to create some paper-pieced borders. After giving it some thought, I decided the best approach was to design the border sections and the corner sections in the same width featuring different border designs. I have now created four designs and have created four sets in 2"-wide, 3"-wide, 4"-wide and 5"-wide sizes. Each pattern packet contains four different designs in the same width. The pattern contains a line drawing for each design, a cutting list for the units in each size and ideas for mix and matching the units and ways to accommodate different border lengths.
I am really excited about this new opportunity to create paper-pieced borders and am already working on more paper-pieced border designs.
Book of the Month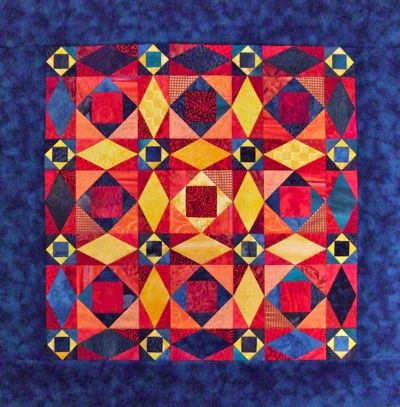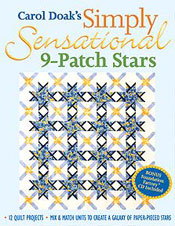 Since I chose the Carol Doak Teaches You to Paper Piece DVD last month, I am going to choose the Simply Sensational 9-Patch Stars for this month.
This book is one of my personal favorites because the designs are simple yet it offers so many creative options. Would you believe the quilt on the left was made from the foundations in this book? I comes with the Foundation Factory CD to print the foundations so it is a super value as well. Take advantage of the reduced price this month to add this book to your library and you will not be sorry.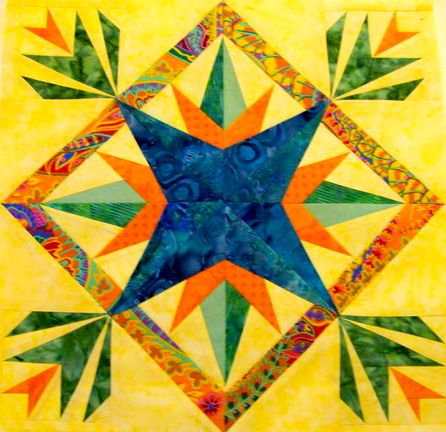 Oh my, our 5707 members have been busy. We began a Yours Truly Round Robin recently. The members make their own round robin to a set of criteria that I supply about every 3 weeks. With March, we are doing the third round and the quilts are varied and fabulous. Members are problem solving to create their rounds and I think this is a wonderful creative experience for all members as they see how each quilt grows with the next set of criteria. The image on the left is round one and round two made by Janice in TN.
Members are also busy making their crazy patch hearts for swapping. If you want to join in the fun, just click on the heading for the group and click join. We will leave the lights on.
Upcoming Trips:
The cruise to Belize, Cozumel and Honduras for March 2011 is now officially full. You can be put on the waiting list.
There are still spots availabe in the April Retreat in Vermont.
There still spots left in the Fall McCall's Quilting Adventures trip to Ireland in October 2010. I love the itineary for this trip and McCall's knows how to plan a fabulous trip! If you want to know more, just click on the following link. Ireland trip.
On the Road Again...
I leave this week for a week-long teaching trip to Fallbrook and Temecula, CA. I hope to see some of you along the way.
All the best,
Carol