back to archive
Special Announcement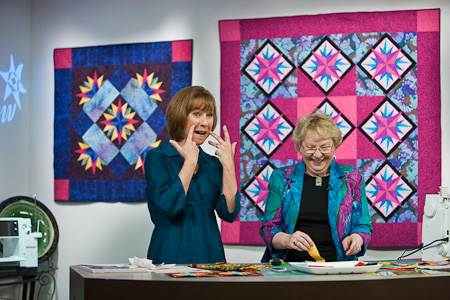 I am sending out this information via a special newsletter because the information is time sensitive. If you go to my web page, www.caroldoak.com, you will see the details regarding how you can watch my current show on The Quilt Show next weekb (Jan. 25-31, 2010) for FREE. There is also a coupon code worth $10 off the membership to join The Quilt Show.
This is a super opportunity to actually see me demonstrate how to paper piece the Mariner`s Compass Stars, share some tricks and tips and have a bit of fun with Alex and Ricky. It will also give you a taste of what type of professional shows are presented at The Quilt Show and have the opportunity to join using a coupon!
And...
In honor of my presentation of the demonstration about paper foundation piecing the Mariner`s Compass Star blocks, the use of the Add-A-Quarter ruler and the Carol Doak Foundation Paper on this show, I have put together a special bundled price for the book, paper and ruler. This is a $5 savings!
Just click here to go to the web store.
Just click on bundles (under the Visa logo) and it is the last item in this category.
I think that is a win, win on all fronts and I didn`t want you to miss out.
All the best,
Carol