back to archive
January 2010 Carol Doak Newsletter
Trips:
I think it is appropriate to begin this newsletter chatting about some really special trips and events on my calendar. I had made the decision to take a year off of traveling to teach in 2011. I was to begin booking my dates for 2012 this month. However, after my soul searching and discussion with family, I have made the decision to retire from the travel portion of my quilting career in 2011. The good news is that this will give me more time at home to design and write. I will do a few special events such as these trips planned for this year and next.

Ireland
October 1-8, 2010
I will be helping host this fabulous trip through McCall's Quilting Adventures this fall. If you read my blog in Februrary 2009 about the trip I co-hosted to New Zealand, you will know that McCall's does a trip like no other. This intinerary is just the right length but packed full with a combination of seeing the beauty and grace of Ireland and yet connecting on a personal level with local quilters and artisans. I can hardly wait and I would love to have you join us. Just click on the link above to read the full description, details and itinerary.

Quilting Retreat in Vermont
April 23-25, 2010
I live in New Hampshire so I know how special a weekend retreat at this wonderful Vermont Inn where the Inn Keepers really know how to make you feel welcome. The All-inclusive Weekend includes: 2 nights lodging, 2 breakfast, 1 lunch, 2 dinners, afternoon tea and your sewing room set-up and the Fire and Ice class. From a teaching perspective, I love to have more time with students so they really feel comfortablle with the techniques they are learning and are abe to accomplish so much more. Gather your friends to spend a exciting and pampered weekend at the Strong House Inn, call 802-877-3337.

Cruise With Me to Honduras/Belize/Cozumel
March 6 through 13, 2011
I took the above picture on a previous Carribbean Cruise. There is just nothing like a relaxing cruise to beautiful tropical places and sharing it with quilting buddies. Even spouses, sisters, moms and friends all love the experiences. When you are quilting on the sea days, they are loving all the ship has to offer. Come and join in the fun and combine your love of quilting by taking classes when we are at sea and your love of exploring, relaxing and just having fun.
Click on the picture for more information. Early sign up bonus!!

I have also just started a Yahoo group for everyone who is going on the cruise and for those who are thinking about signing up for this cruise...the link to join the group is below.

Group home page: http://groups.yahoo.com/group/CruisingWithCarolDoak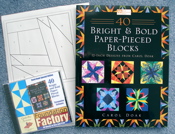 I am now officially on my last box of books for the 40 Bright & Bold Paper-Pieced Blocks book. So if this is a book you have been thinking about adding to your library, now would be the time to do it. It does not come with the Foundation Factory CD to print the foundations, but you can purchased the bundled item that combines the book and the CD and save dollars. I anticipate that I will not have any more copies of this book available for purchase after this month. Each foundation in this book combines in a four-block rotation to make stunning blocks and quilts with many creating secondary bonus designs.
Fabric on Sale!!!!!
I need to make room for new fabric so I am putting all the fabric on sale....I mean really on sale!!! My loss is your gain .....whooo....add to your stash this month!!!
Book of the Month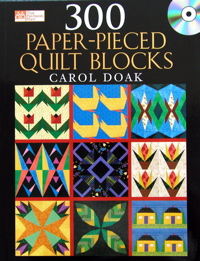 I decided to name the 300 Paper-Pieced Quilt Blocks book as the book of the month for a couple of reasons. First, you will read in the next segment that I am beginning a Yours Truly Round Robin this month at the Carol Doak Yahoo Group. This book would come in soooooo handy for members participating in this project. The vast number of designs available and the ability to print them in any size using the Foundation Factory Program that comes with the book offers so many wonderful creative options. Whether you are making large quilts, pillows, or even postcards, the ability to print in any size you like is wonderful. Take advantage of the "on sale" price this month to add this wonderful resource to your library.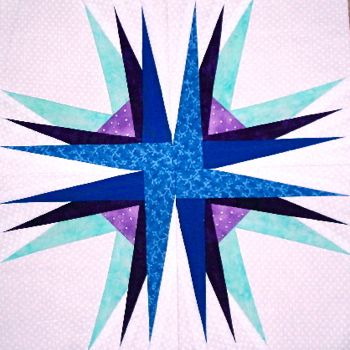 What can I say? This group of over 5500 Members continue to amaze and inspire me. There were lots of projects posted by members of gifts that they had made for the Christmas and other holidays.
When we reached the magical 5500 members, I created a new 5500 Member Celebration block so members have been making blocks and posting pictures of their blocks. It is amazing how the different color combinations make them look so different.
And, taking advantage of any excuse to create a new block design, the block at the left is the 2010 New Year Block design that I created for the group. Cathy Kropp voluteered to make the block as a tester before uploading the design for the group.
I also just began a Yours Truly Round Robin for the group. Each member uploads a picture of their center and each month I will post the criteria for the next round. The member will then make their own next round and post a picture. This way, you quilt grows over the months, but you do not need to mail it to another person. The results the last time we did this in the group were just amazing. If you would like to play, click on the name of the group and come join in the fun.
On The Road Again
Actually, through the wonder of the internet, you can actually watch me on the The Quilt Show.com My show is scheduled to begin airing on Monday, January 18. There will also be an upcoming slide show of my quilts and a little project.
In February I will be heading to Las Cruces, New Mexico and Fallbrook and Temecula, California. I hope to meet some of you along the way.
All the best,
Carol