back to archive
December 2009 Carol Doak Newsletter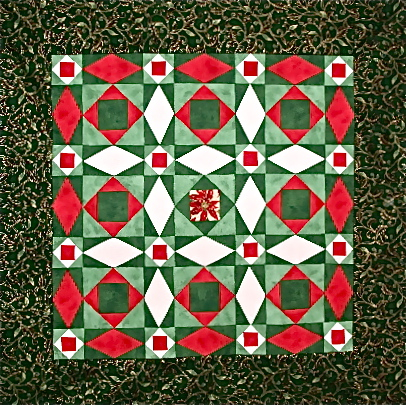 December is one of those hustle and bustle months with shopping, decorating, cooking and entertaining family and friends. So much to do and so little time it seems.
My wish for you all is to slow the pace and savor the little things that are important in your lives.
I am so pleased to announce that all of the children in www.piecinghope.org project have been selected and will receive a special quilt just for them. That is a blessing and wonderful to see no child unselected to receive a quilt.
The quilt at the left is a wonderful Sunset At Sea quilt made by Cathy K of Maryland. Cathy added a special touch with a poinsettia in the center square. This is one of my new classes from the Simply Sensational 9-Patch Stars book.
I did the majority of my holiday shopping this year online. I love the convenience of finding what I need and having it delivered to my door. Take advantage of the holiday prices in the web store to check items off your list. Check out the fabrics, patterns, books and tools...
CD of the Month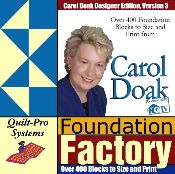 This month I decided to select the Carol Doak Designer Edition of the Foundation Factory for the book of the month. It obviously is not a book, but it does have over 400 block designs contained in it...including Christmas Designs...from seven of my earlier books. If you enjoy paper piecing, this is a must have on your computer to print foundations in any size you like.
I am asked often if I have a pattern for this or that and most of the time I am referring them to this cd. Take advantage of the reduced price this month to add this valuable resource. This CD works on both MAC and PC operating systems.
Upcoming Trips - News!
Vermont Retreat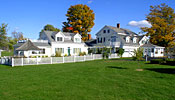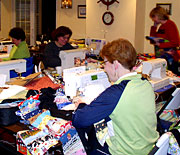 I understand there are still a few open spaces for the Retreat I am doing for the Strong House Inn in Vermont.
April 23-25, 2010
"Fire and Ice Mariner's Compass Stars"
– Carol Doak -- all inclusive weekend*
Using just one block design from my new book, Mariner's Compass Stars, begin to create this 46"x 46" wall quilt featuring the Iceland block. Learn assembly line paper piecing, and all the tips and tricks for joining the sections to create accurate blocks every time. These blocks look complex, but they are so easy to make using these tried and true paper piecing techniques.
*All-inclusive Weekends include:
2 nights lodging, 2 breakfast, 1 lunch, 2 dinners, afternoon tea and your sewing room set-up and quilt teacher.
Gather your friends to spend a exciting and pampering weekend at the Strong House Inn, call 802-877-3337. Or http://www.stronghouseinn.com/quilting.html
Cruise in 2011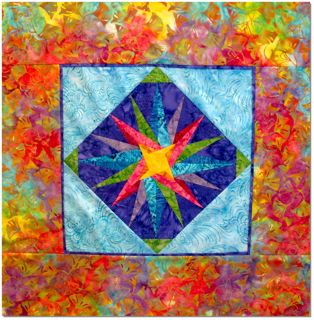 I just got a sneak peak at the project we will be making on the cruise to Honduras/Belize/Cozumel on March 6-13, 2011 with Sew Much Travel.
I believe there is still room available for this cruise. There will be three teachers and three class and the time of your life. The ship departs from Galveston, TX for a wonderful 7-day cruise. Might want to suggest this to Santa! And he can even come along and enjoy the cruise and sightseeing with you.
If you want to learn more about it, this link will give you all the info...http://www.stitchinheaven.com/stitchin_heaven_pages/cruise_mar2011.asp
If you are thinking about the cruise or have signed on to come along, I have started a group page for this group at the following web address:
http://groups.yahoo.com/group/CruisingWithCarolDoak/
Hot News!!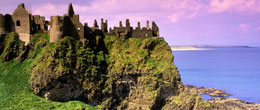 And....I just agreed to help host a new McCall's Quilting Adventures trip to beautiful Ireland at the beginning of October 2010. I have seen the itinerary and it looks fabulous with just the right mix of culture, craft and charm. Some of you may know that I led a trip to New Zealand in January with McCall's Quilting Adventures and it truly was a trip of a lifetime! McCalls just knows how to do it right and well. This is so new that the details have not yet been put up on the web site, but I expect they will be soon. I would love to have you join me. Check back at http://www.mccallsquiltingadventures.com/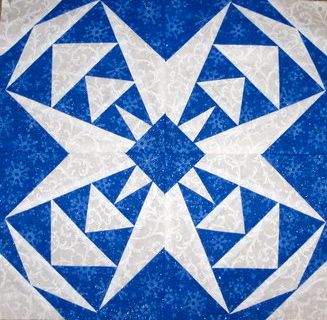 We are only 22 members shy of reaching 5,500 Members!!! Now our veteran members know that means I will upload a brand new block design in celebration....they are anxiously awaiting ...if you click on the group name above and join the group, you may just put us over the edge! When you click on the name above, it will bring you to the home page where you click, Join this Group.
Members have been busy making Holiday Mini Quilts for the Challenge...just announced our random winner today.
We also just completed a table runner challenge and one lucky member won 10 yards of fabic!!
The monthly lotteries will come to an end with the December lottery. The snowflake block was made by Nancy from one of the patterns I had uploaded for the group fo the December Lottery.
I also created a couple of paper-pieced Holiday Ornaments for the group. It is so much fun to see everyone`s interpretation of the same design.
The new year will bring new excting challenges, fun and designs...
On the Road Again...
Acutally, I leave this week for my last trip of the year. It is always bittersweet ....fun to know I will be home for a few weeks during the holidays but also sad that it will be a few weeks until I am out playing again.
My best wishes to you all for a joyous holiday and a healthy and happy new year.
Carol