back to archive
November 2009 Carol Doak Newsletter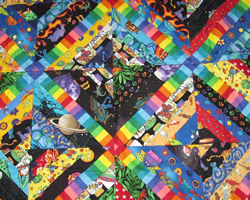 I know it is not quite November yet, but I will be traveling on the first of the month, so it was either send out my newsletter a few days early or send it out late. I have so much news to share, I opted to send it out early.
I recently became aware of this wonderful project, originating right here in New Hampshire, and wanted to share a bit about this heartfelt project with you. The Piecing Hope Quilt Project makes quilts for children who have lost everything. These children are all orphaned by AIDS and have no other family to care for them. Many of these children have suffered terrible abuses prior to coming to the orphanage, and building self-esteem, self-worth and emotional health are a priority.
Piecing Hope volunteers make twin-size quilts. Each quilt is made for a particular child and is personal and unique. This is more than just bedding, a quilt is a piece of the quilt maker, immortalized and given with unselfish faith. These quilts signify the value of each child to their community, to their country and to our world. Having been involved in past projects where a child is the recipient of a special quilt, I know this simple act means so much and makes such a difference. If you would like to make a quilt for one of these children, please contact Alex Armitage at alex@piecinghope.org or visit their web page and choose your child and make that child a special quilt. http://www.piecinghope.org/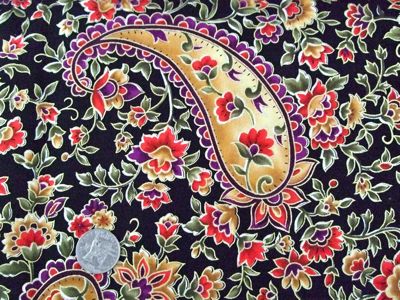 The web store has been busy lately with lots of new items. First, I have opened a new category of products and have begun offering for sale fabrics from my previous fabric collections. The first collection I am offering is the Royal Windsor Collection. The focus of this collection begins with an elegatn floral paisley and includes wonderful supporting fabrics. There are two colorways. One colorway is rich with the rust, green and golds and the other is soft with blues, pinks and greens. Once this collection is gone, I will add another collection.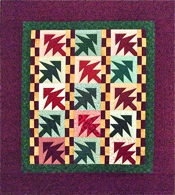 I have also added two new quilt patterns to the web store. The first pattern is the Checkerboard Tree pattern. This 40" x 40" quilt features a whimsical paper-pieced tree worked in green and red scraps. It is perfect for the holiday season and adds warmth to a room year round. The other pattern, The Village, is also 40" and depicts a charming village with trees, houses and little mini quilts on the clothesline. Both patterns come with all the foundations pre-printed on Carol Doak Foundation paper. They are quick, easy to make and a great way to use up some scraps.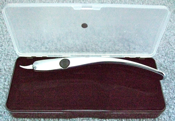 Also new in the web store is gorgeous Gingher Seam Ripper With Retractable Blade. This seam ripper feels just wonderful in your hand and the precision for removing stitches is just fabulous. Itis made of die cast aluminum with chrome over nickel finish. It comes with their life-time limited warranty. I do love this new ripper for removing those unwanted tiny stitches!!! No more refill blades to purchase.
Book of the Month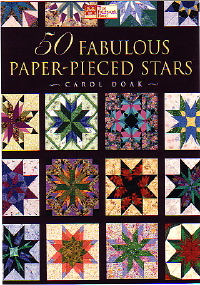 The book of the month for November is the 50 Fabulous Paper-Pieced Stars book. This book features a 12" star block for each of the 50 United States. It also comes with a media CD that you can watch on your computer to see how I make the star blocks. It runs about 30 minutes and you might pick up some paper piecing tips watching it. There is an additional purchase Foundation Factory CD that lets you print the patterns from your computer in any size you like. Save a few dollars by purchasing them as a bundle. This book has been a best-seller for years. Take advantage of the reduced price this month to add it to your library.
What's New?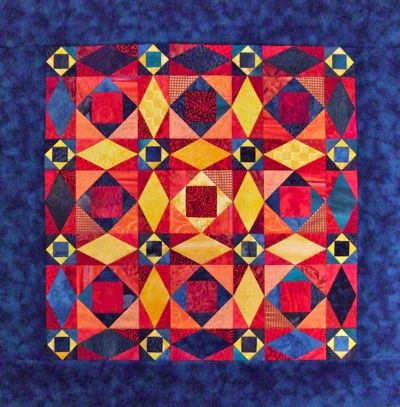 March 2011 Western Caribbean Cruise - Since announcing I was doing this new cruise, I have started a little Yahoo group for everyone going on the cruise or thinking about going on the cruise. This way, we get to know each other a bit ahead of time, can connect with information and veteran cruisers can share advice and answer questions. If you are considering this cruise, want more information, or have signed on to sail, please do stop by and join in the fun.
http://groups.yahoo.com/group/CruisingWithCarolDoak/
New Workshops- I've been working on some new workshops lately and have uploaded four new workshops to my workshop page. The quilt at the right, Sunset at Sea, is one of the new workshops.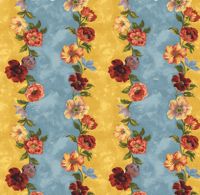 Floral Affair -Although I wasn't at Quilt Market in Houston this year, my new fabric collection was shown. It is called Floral Affair and is being distributed by Northcott Fabrics. The stripe at the right is just one of the pieces . I am really excited about this collection and am dying to get my hands on it. I along with ya'all will have to wait until it lands in the stores in February. If you would like to see all the fabrics in the collection and get a peak at one of the quilt designs I created around this fabric, you can see them at the following link:
The group is quickly approaching 5500 members and our members know when we hit that number, I will upload a new 5500 Member Celebration block. In the mean time, members have been so creative using the recent crazy patch block that I uploaded to the Free Patterns sections. I will pull a random winner at the end of October from all those who have posted a picture.
The Holiday Mini Quilt at the right was made by Amy. You would not believe how many different mini quilts have been made using this pattern and so many different colors. A random winner will be drawn in November. The members also continue to share and support each other with a variety of events. If you want to join in the fun click on the name link above and click, Join this Group. We will see you there.
On the Road Again
My travel year is winding down and I am looking forward to enjoying the holidays and catching up on some sewing at home. This week I head off to New York state and then I will be in Pennsylvania. You can always track my travels by visiting my travel schedule page. I want to wish all my American friends a very joyous Thanksgiving.
All the best,
Carol