back to archive
ATTENTION: NOTICE OF OUT OF PRINT BOOKS -JULY 2016
I am sending out this notice to let you know that the following books will not be reprinted and our now in limited supply. That is the bad news. The good new is that they are all on sale at AMAZING PRICES. Buy them for yourself and your friends and family. You simply can't go wrong. Put them away for the holidays when you need a gift for your quilt friends.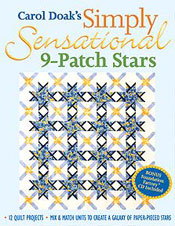 Simply Sensational 9-Patch Stars-OUT OF PRINT!
SAVE $18 NOW ONLY $10.00

104 pages, 81/2" x 11", full color and includes the Foundation Factory CD computer program to print these foundations in the size you select.

Mix-and-Match units, 50 NEW 12" state star blocks and endless star possibilities. Combining these simple units offer the opportunity to produce over 2500 9-Patch Star Blocks!!!!!!

12 Sparkling quilt projects presented in a variety of sizes

Easy for beginners, splendid for advanced quilters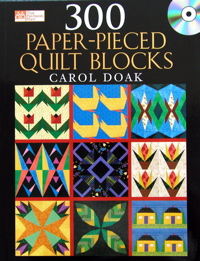 300 Paper-Pieced Quilt Block- SAVE $10 NOW! ONLY $19.95

The "Queen of Paper Piecing" is back with her most block-packed book ever! Find paper-pieced blocks for almost every theme, occasion, and style imaginable. Print patterns sizes you want in minutes with the included easy-to-use CD-ROM!

These 3" and 4" block patterns-- 300 of them!--feature traditional blocks, seasonal and holiday themes, alphabets, numbers, and much more

You can print patterns on the spot using a home computer--even resize or make multiple patterns with the click of a mousEe

Find quilt-block patterns for almost every theme, occasion, and style imaginable in bestselling author Carol Doak's most block-packed book ever!

176 pages, 8 1/2" x 11", full color includes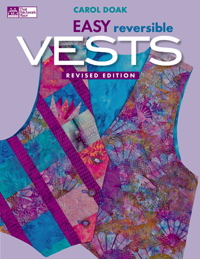 Easy Reversible Vests-Revised Edition-BLOW-OUT SALE WHILE SUPPLIES LAST - ONLY $3.00
Easy Reversible Vests sold over 101,000 copies!! This updated and revised edition has the best of the original book plus so much more. The same easy techniques plus a few updated techniques are used to create stunning one-of-a-kind vests that you will love making and love wearing. Each vest is presented with very simple step-by-step instructions plus two more vests are shown using similiar techniques. These vests are VERY easy for beginners to make with confidence and creative enough for experience quilters to enjoy making them. There are TWO full-size vest patterns included, ranging in sizes from petite to X-Large, new block designs, new block sizes, new block shapes, creative stitching ideas, new fabric combination ideas and so much more. Make them for yourself and give them as gifts. I've added some pictures to the gallery section of some of the 27 vests you will see in this exciting new book. 80 pages, full color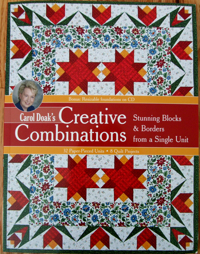 Carol Doak`s Creative Combinations-SAVE $20 NOW ONLY $10

As someone who`s middle name is "creative options", I am so excited about my new book!!! It comes with 32 new paper-pieced Units. There are 24 rectangular units and they can be used as border units, or they can be used as half block units. Now you can make 12" blocks using two halves! There are 8 corner units that can be used to turn the corner or they two can be placed in a four-block rotation setting. Several of the rectangular units also offer the opportunity to use just a triangular portion and place them in a four block rotation. Now, the icing on the cake is the Foundation Factory CD that permits you to print the units in any width and any size. Just mind blowing! Never struggle again getting that border to fit the size you want. With this CD, just select the size you want and print your foundations. If the computer is not your thing, all the foundations are also included in a pull-out section. Using this new rectangular block approach, the quilt projects in this book are not only stunning, they are so different from the run-of-the-mill quilts. The Foundation Factory CD included in the book is the latest version running on the older operating systems plus the newest MAC and PC operating systems. This book is destined to be a ground breaker in the world of paper piecing. 112 pages, pull-out section and Foundation Factory CD. See the book and legal size foundation paper option in the Bundle section and save.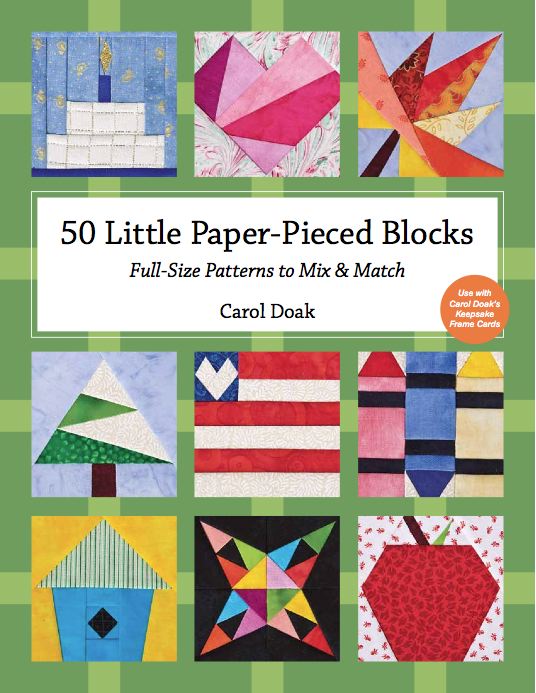 50 Little Paper-Pieced Blocks-FLASH SALE, SAVE $7!! ONLY $5.95


You will be able to create perfectly pieced 3" quilt blocks in a variety of theme--from hearts and flowers to airplanes, birthday cake and holiday designs. Secure them inside your Carol Doak Keepsake Cards for gift giving and artistic display. These blocks are also perfect to mix and match for making small wall quilts and other small projects